Siding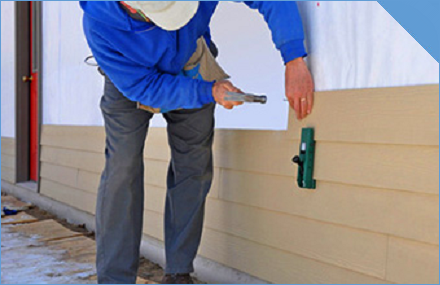 Siding is one of the most important elements for your home. It is the face of the home, but its value is much more than aesthetic, it protects and provides insulation. The quality of your siding impacts more than the looks, it effects energy efficiency and maintenance. We offer a wide range of siding, soffit, and fascia, as well as designer accent products to beautify your home and provide protection from the extreme weather conditions.
Repair & Replacement
Chipped, scratched, or dented siding detracts from the beauty of a home and the dignity of a business. Let us repair or replace damaged and worn siding to enhance the curb appeal of your home or business.
House Wrap
House wrap is a lightweight, synthetic material installed beneath your siding. It provides a weather-resistant barrier that minimizes moisture and improves your home's energy efficiency. Installation of house wrap keeps warm air inside during the winter and hot air outside in the summer to provide efficient home comfort.
Vinyl, Insulated Vinyl, Fiber Cement, and Others
Whitey Construction offers a wide selection of siding to personalize your home or business. Our vinyl, fiber cement, and other siding products are built to last and are sure to be a beautiful part of your home for years to come.
Vinyl Siding
Vinyl is a strong, durable solution that eliminates the need to paint, a selling point for many homeowners. Vinyl siding comes in a wide range of styles and colors. The material is very affordable, and because it can be installed much more quickly than wood, installation costs are lower as well.
Fiber Cement
Fiber cement siding has been around for nearly a century. It is composed of sand, cement, and cellulose fibers. Because of this composition, it is both nontoxic to the environment and naturally fire-resistant. Fiber cement resists rot, insects, and damage from severe weather such as hail and heavy winds, and it carries up to a 50-year warranty. This siding comes in a wide range of colors and styles that can mimic the appearance of wood, stucco, or masonry. Fiber cement siding requires occasional painting, which many homeowners see as a benefit over vinyl, because they gain the option of changing the color when they want to. Paint adheres better to fiber cement than to wood siding, so you can get away with painting less frequently.
Steel
Steel siding is available in a variety of colors and styles, and it provides superior protection from weather, moisture, and pests. It resists dents and chips and does not rust. Steel can last much longer and resist extreme weather better than many other siding options, and it requires very little maintenance, lasting 25 years or more before needing to be repainted. It is also 100% recyclable, so you don't have to worry about it taking up landfill space generations into the future.
Brick & Stone
If you would like to add style and interest to your home's façade, the experts at Whitey Exteriors can show you endless opportunities to create a beautiful and distinctive look using brick or stonework. Brick and stone are durable, weather-resistant, fireproof, and insulate the home well from fluctuating outdoor temperatures. They require very little maintenance and lend a natural, timeless beauty to your home.
Shutters
Unlike in the past, when shutters were necessary to protect a home from the elements, modern shutters are decorative rather than functional. Whitey Exteriors can help you choose shutters that complement your siding and appear organic to your home's design. We offer several styles so you can personalize your home's appearance with your own creative touch.